As we approach the reinstatement of disconnects and late fees, we want to continue helping members! If you have accumulated a large balance during COVID-19, please call us now at 1-800-451-5474 to set up a special payment plan and discuss crisis assistance available from our In This Together Relief Fund.
Alleghany
Alleghany County Group Homes - $8,500 to update lighting in the main day facility to energy efficient LED lighting;
Alleghany Wellness Center - $4,000 to expand training programs to stay current with wellness trends to keep clients more active and interested in bettering their health;
Blue Ridge Developmental Day - $10,000 to support food distribution to those in need;
Blue Ridge Parkway Foundation – $10,000 to support the upgrade and reopening of the Bluffs Restaurant at Doughton Park on the Blue Ridge Parkway.
Solid Rock Food Closet – $5,000 to support food distribution to at-risk children in Alleghany County.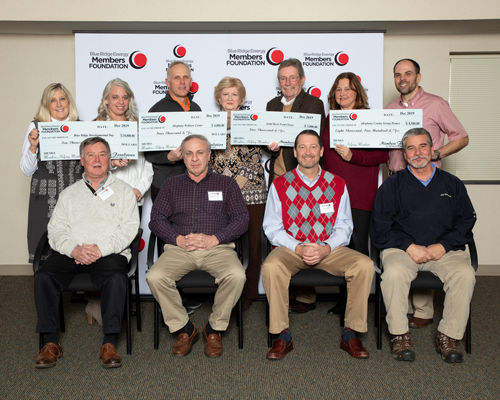 Ashe
Pond Mountain Volunteer Fire & Rescue - $11,000 to assist in the purchase of a set of hydraulic rescue extrication tools;
Ashe Medication Assistance Program - $15,000 to support the free medication program for patients who are uninsured or underinsured;
Ashe Really Cares - $2,000 to support food distribution to those in need;
Shoes For Kids - $10,000 to help purchase quality shoes for closets in 14 Ashe County locations;
Second Harvest Food Bank of Northwest North Carolina – $10,000 to help fund the implementation of a software data tracking program designed to better serve the needs of the communities in 18 counties of Northwest North Carolina.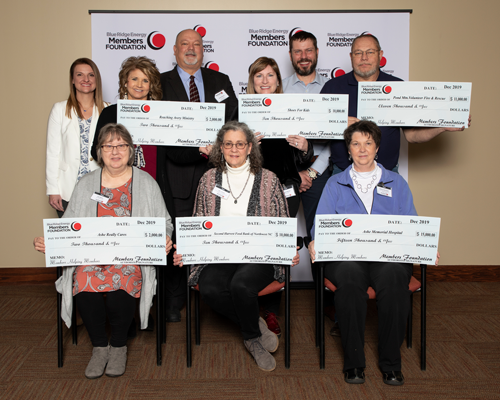 Caldwell
Caldwell County Yokefellow, Inc. - $9,000 to assist in the relocation of the loading dock at the new Yokefellow service center;
Helping Hands Clinic - $4,000 to help continue funding the needed medication and lab services at the clinic;
Caldwell Senior Center – $3,500 to support the ongoing program of Medicare counseling and enrollments;
Caldwell Memorial Hospital Foundation - $3,000 to assist in the purchase of safety furnishings and equipment for the designated adolescent secure holding suite in the newly expanded Emergency Department;
The Caldwell House - $3,000 to help update the residents' kitchen and to purchase a commercial washer and dryer;
Kings Creek Volunteer Fire Department - $2,856 to upgrade the emergency management radio system;
Patterson School Foundation - $9,000 to upgrade the electrical system in the Palmyra Hall building which will be used to host community events;
Town of Hudson/HUB - $9,000 to aid in transforming the Hudson Uptown Building (HUB) into HUB Station that will serve as a business and art development center;
Caldwell Opportunities, Inc. - $2,500 to help build a sheltered outdoor area for clients;
South Caldwell Christian Ministries - $2,500 to help purchase food for mobile pantries that operate once a month to take food to churches and schools.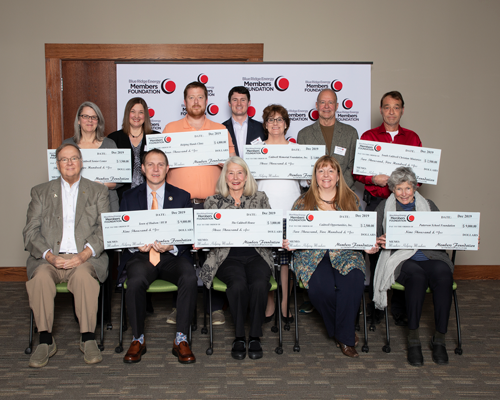 Watauga
Boone Area Cyclists - $2,000 to help purchase equipment for volunteers to create more beginner and intermediate mountain bike trails in Rocky Knob Park;
Children's Council of Watauga County - $5,000 to support the many family programs offered such as family literacy, parenting classes, teen parenting program as well as other programs that support families in time of need;
Community Care Clinic - $3,000 to support behavioral health services;
Hospitality House of Northwest North Carolina - $5,000 to support the WeCAN program that provides critical homeless prevention and crisis assistance services for low income families;
Hunger & Health Coalition – $5,000 to help purchase reusable grocery bags for the food pantry program;
LIFE Village, Inc. - $7,500 in funding to help an inclusive residential community for adults with autism and their related challenges live as independently as possible;
Mountain Alliance - $3,000 to support the "School's Out" after school program at Watauga High School that helps students with academic support, free snacks and school supplies;
OASIS, Inc. - $2,000 to help fund the client utility assistance program;
Reaching Avery Ministries - $2,000 to support the emergency food program;
Spirit Ride Therapeutic Riding Center - $4,644 to assist the facility in offering free therapeutic riding/equine facilitated learning for accepted clients.