Since the beginning of COVID-19, Blue Ridge Energy has worked to assist our members during this difficult time. With the expiration of Gov. Cooper's Executive Orders 124 and 142, Blue Ridge remains committed in our efforts by continuing to suspend disconnects and waiving penalty and late fees for electric members until October. However, we encourage everyone with a past due balance (including Flexpay members) to call us by August 31 at 1-800-451-5474 to set up a special payment plan or ask us about crisis assistance from the In This Together Relief Fund.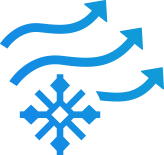 Nest smart thermostat owners can save money, lower their monthly electric bill and receive a one-time $50 bill credit by joining our Rush Hour Rewards program. By signing up, you get paid for allowing Blue Ridge Energy to remotely adjust your thermostat through your in-home Wi-Fi a few degrees on very hot afternoons in the summer.
Your Nest thermostat can cool things down before a rush hour event begins and you always have the final say in your home's temperature! You can change your thermostat back at any time by using your smart thermostat's wall unit or smart phone app.
Program Details
To be eligible for this Blue Ridge Energy rebate, you must register your Nest smart thermostat online and participate in our Rush Hour Rewards Program. You must be a Blue Ridge Energy member with wi-fi and central air conditioning to participate in this program. Your Nest Thermostat must be located at your residence served by Blue Ridge Energy.
Frequently asked questions
Nest support
Installation directions
(Blue Ridge Energy will not install or assist with installation of smart thermostats and is not responsible for any equipment issues or malfunctions.)
Interested?
For more information about smart thermostats and our savings program, call us at 800.451.5474 or sign up today. Google and Google Nest are trademarks of Google, LLC.