5 Tips To Have Yourself an Efficient Little Christmas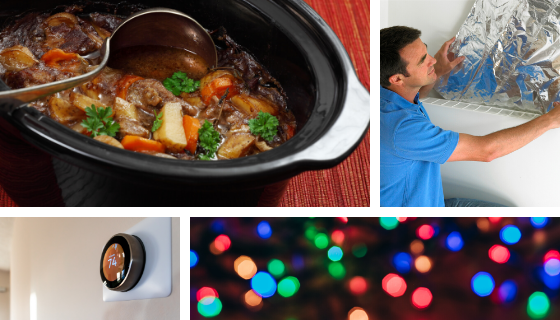 1. Choose energy efficient LED holiday lights to decorate your home. They use less energy and can last up to 40 seasons. Did you know you can connect up to 25 LED strings without overloading a wall socket?
2. If you are treating your family to new appliances this year, be sure to buy ENERGY STAR certified! These appliances use up to 30 percent less energy for year-round savings. Plus, Blue Ridge Energy offers a $25 rebate on ENERGY STAR certified refrigerators and freezers. Learn more at BlueRidgeEnergy.com/Rebates.
3. Major retailers are offering big holiday discounts on smart thermostats, like Google Nest, Ecobee and Honeywell! Smart thermostats make energy savings easy by automating your home's heating and cooling for maximum efficiency.
4. Are you the handy type? Consider giving the gift of your talents. Help a family member or friend insulate their water heater or air seal their house.
5. Use your crock pot, microwave, toaster oven, or warming plate for holiday meal prep and rely less on your stove! The typical toaster oven can use up to half the energy of an electric stove during the same cooking time.
Sources: Cooperative.com and Energy.gov