Built-In vs. Portable Grills: Which is Right for You?
Summers just would not feel the same without time spent outdoors grilling for family and friends. Be it the warmth from a flame, the delicious aroma, or just socializing with loved ones, the grill always attracts a crowd. To create or improve your personal outdoor oasis, the grill is a great place to start. One of the first decisions to be made in selecting a grill will be deciding between: built-in and portable grills. Continue reading to learn the differences and determine the best solution for your home.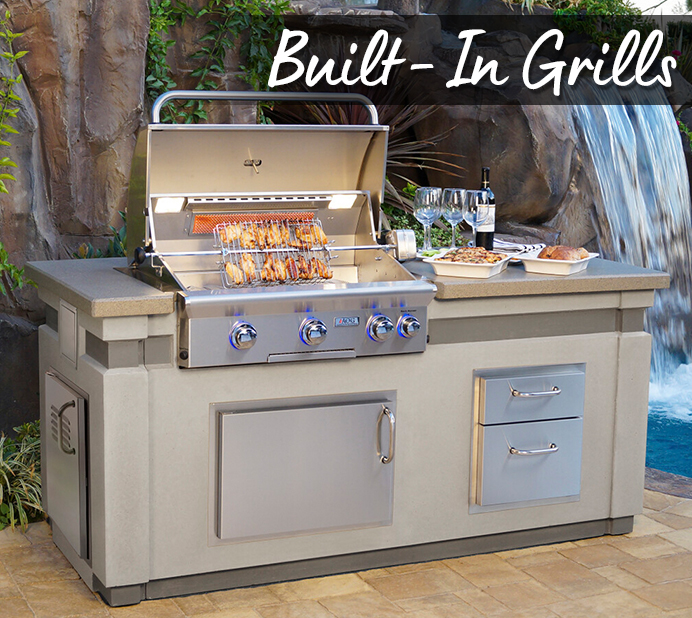 Built-in grills are exactly that – grills that have been incorporated or 'built into' a countertop or outdoor kitchen. These grills are designed and manufactured to be in outdoor structures year-round. Therefore, the design is durable enough to withstand the elements for longer periods of time.
What To Know:
Increased Durability
Grilling itself can put wear and tear on a grill from exposure to high heat and a ton of grease, to the impact of sun, rain, snow and ice. Built-in grills are built to survive harsh weather conditions. While this doesn't take away the necessity for routine maintenance and cleaning, you can be sure that you'll get longevity out of your investment.
Extra Space
Built-in grills are usually larger than stand-alone portable options. Plus, you often gain added counterspace and storage with an outdoor kitchen. The extra space for food prep and storing utensils, cutting boards, and other items will save time away from the grill.
Added Property Value
On top of the functionality, creating an aesthetically pleasing outdoor kitchen expands your entertaining space; this in turn can increase the value of your home. Some homeowners get even more creative in their backyard space by adding firepits, seating, lighting, or even surround systems.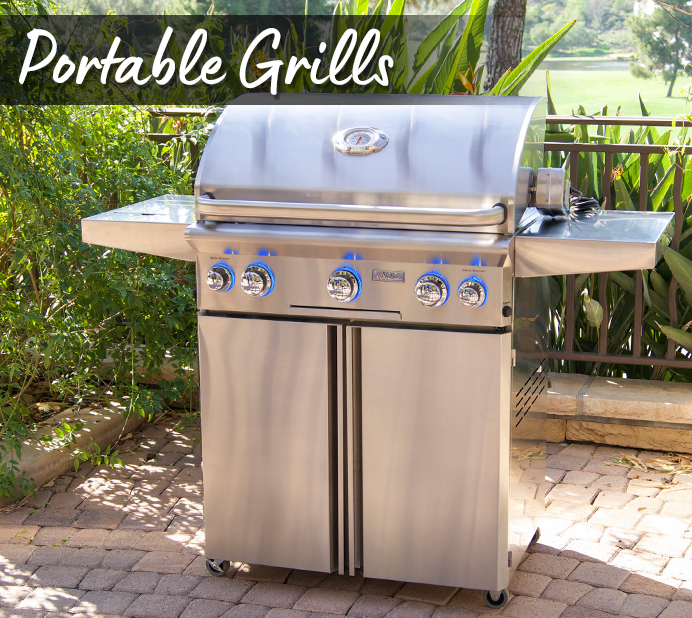 Portable or freestanding grills are often attached to a cart with storage space and/or wheels under the grill. Portable grills offer a much wider variety of sizes, configurations, fuel types, and price points.
What To Know:
Lower Cost
Due to the construction and installation costs associated with outdoor kitchens and built-in grills, freestanding units are typically a lower upfront investment. However, larger high-end freestanding grills with added features like infrared burners or rotisseries will increase the price and bring portable units closer to the cost of a built-in.
Variety
With a few exceptions built-in grills tend to be gas fueled, while portable units have a much wider variety. No matter your skill level from a complete beginner to a cookout veteran, or whether you want a gas grill, charcoal, or a kamado, there are plenty of options for you.
Flexibility
When it comes to rearranging your patio or backyard space, portable grills are typically just that: portable. You can easily move around your furniture and place the grill wherever you like with little difficulty. Not to mention that while even though built-in grills are designed to be resilient in all different types of weather, there is no better protection than being able to move the grill out of the elements completely.
Let Us Help You Decide:
Come see us at your nearest Showroom and one of our Customer Service Specialists will be glad to help you determine which option will work best for your home!